Strange things have been happening in Archway over the last few years. Formerly the area had been the subject of ridicule; a grotty, grimey bus interchange, a gyratory system dominated by monolithic decaying office blocks and filthy dive bars. The smug folks of neighbouring Highgate, Muswell Hill and Crouch End would shudder at thought of
eating out in Archway
...
But things are changing. Sure, Archway is still a grotty, grimey bus interchange; the gyratory system is pretty horrid (I cycle round it twice a day), but there have been some wonderful restaurants and cafés opening in recent years. The most notable is the wondrous
500
- an unassuming-looking Italian at the top of Holloway Road that cooks up imaginative, excellent seasonal cuisine, with great wines and deserts and snacks and everything is so good and VERY affordable. More about that later!
One of my favourites of this
new wave
of new establishments is
La Voute
on Archway Island - right in the middle of the gyratory system! You wouldn't know you were surrounded by the A1 though; La Voute is a veritable oasis. Inside it's all clean lines, space, light...almost Ottolenghi-esque. Out the back there's a tranquil patio with plenty of tables out the back, surrounded by bamboo fencing. Look up and you see the backs of rickety Victorian terraces and the top of Archway tower; look around and you see happy couples, young families and students tucking in to brunch, reading the weekend supplements, making the most of the free wi-fi.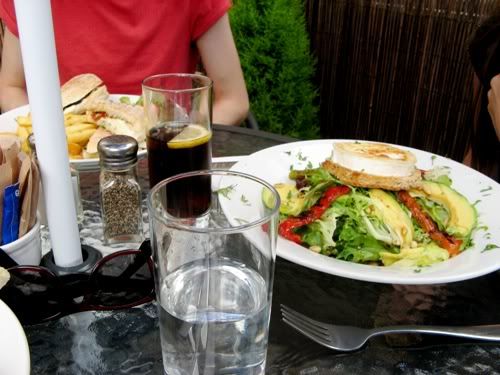 The food is Mediterranean-inspired with a definite leaning to the Eastern Med (Turkey, Greece, Cyprus). There are luscious brunch spreads with haloumi, spiced lamb sausages, scrambled eggs, spinach filo pastries. There are tasty toasted sandwiches, quiches, salads, crepes, croissants and pastries. La Voute also does delicious finely crafted patisserie-style desserts for the weekday coffee and cakes crew. The service is very laid back and it's a great place to catch up with friends at a leisurely pace without feeling obliged to keep ordering food. And if you did, it's very affordable too!
Given that it's only open during the day, it's great to see that La Voute seems to be doing a good trade. It's precisely the kind of chilled out hanging out spot serving great quality food and drink that is too rare in London, especially given the number of people who like that sort of thing. Keep up the good work, La Voute!