I haven't made enough noise about street food recently. In some ways, street food is becoming a ubiquitous cliché, like pulled pork or craft beer. A blanket term to tick boxes and bring in the punters. Street food could be any old crap served hot from a stall. Pulled pork could be anything from expertly brined, seasoned and smoked rare breed pork, to abattoir floor scrapings doused in sugary BBQ sauce. Craft beer just needs to say craft beer on the pump and people will buy it.
As with anything in London, research and recommendations are needed to cut-through the multifarious options. It's not about being a snob - your same £6.50 could get you a very average burrito or a very good one. Why wouldn't you want the best, if you could? When it comes to street food in London,
KERB
does the filtering for you with their - dare I say - *curating* of street food traders operating at their markets.
KERB have the pick of the crop on their roster, running regular street food markets in London - they have markets catering to lunching workers at Granary Square (Kings Cross, Tues - Fri), Wednesdays at Spitalfields, Thursdays at the Gherkin, and once a month at UCL.
It's a model which is beginning to emulate
Off the Grid
in San Francisco, which operates at a much larger scale in a much smaller city (but where street food carts are much more culturally engrained), where literally dozens of sites are run by OTG, with anything between 2 and 10 street food carts there for lunch or dinner, all listed and mapped on their site.
One of the highlights of OTG are their big evening markets where you can spend an evening trying out street food and getting good beer at decent prices - the market at Fort Mason has 32 trucks every Friday night through the warm months. Like London, the scene quietens down through the colder months.
The exciting news for us East London dwellers is that KERB have secured a permanent home in Hackney Wick. Opening in December, KERB will be running street food markets from a big warehouse INDOORS, and hopefully all year round - what with it opening in December and being indoors and all.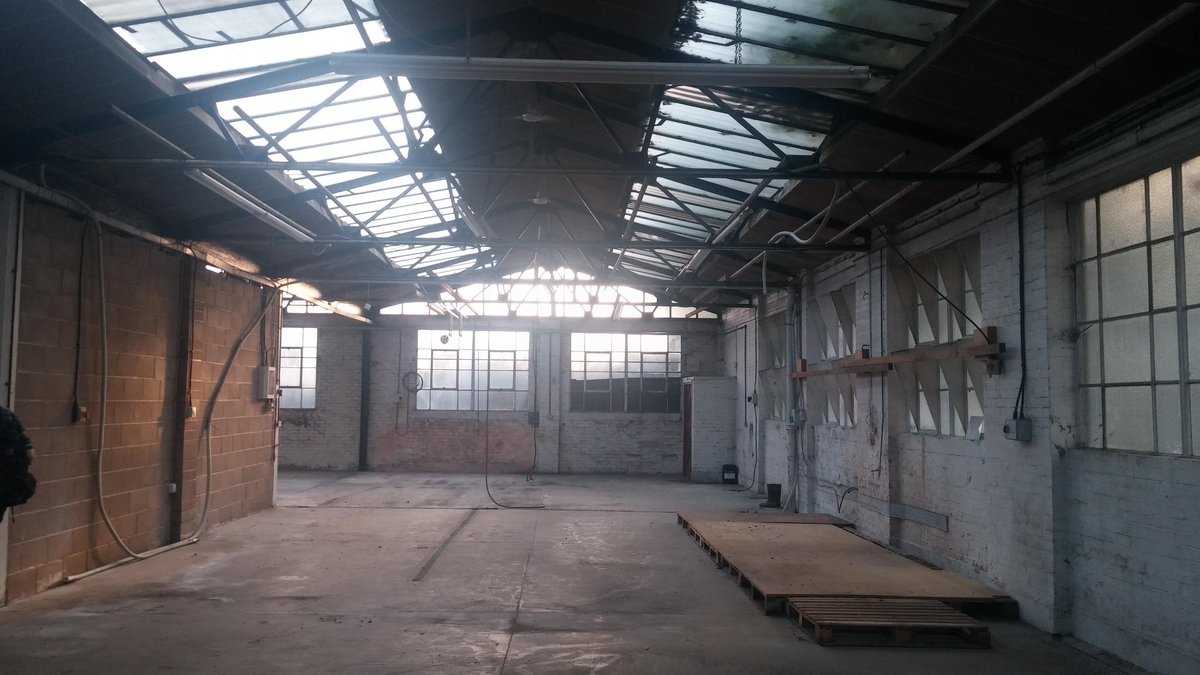 Hackney Wick is the perfect location - it's off the beaten track enough that it'll hopefully shake off some of the annoying types you get at the pricey Street Feast in more accessible Dalston. This probably does mark the next stage in the Wick's development and commercialisation, though, which I'm sure many Wickster hipster creatives will mourn.
But I'm pumped, especially living 5 minutes cycle away in Clapton. To whet you're appetite for what you might be able to expect, I'll run through some of my favourites that I guzzle at my once-weekly KERB KX lunch trip.
Kimchinary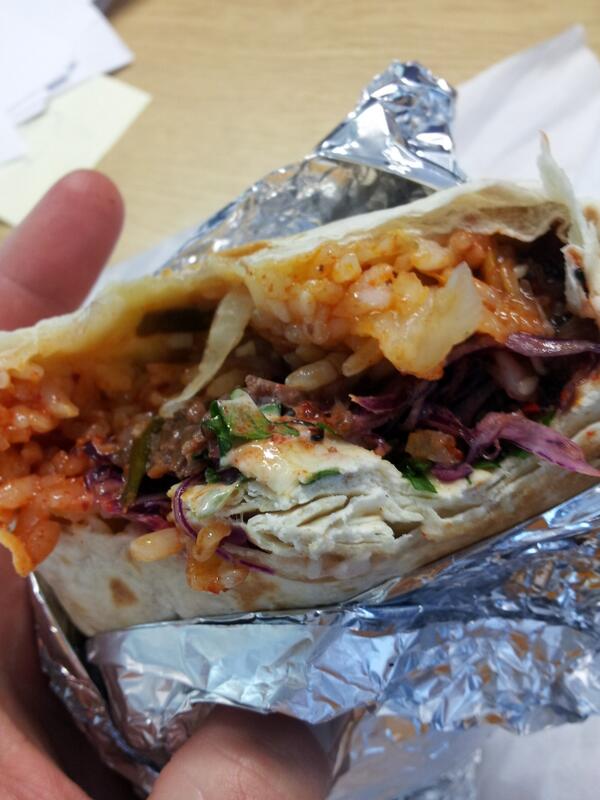 Kimchinary is my first street food love, and
I've written in depth
about Hanna Soderland's expert fusion of Mexican and Korean flavours with her kickass burritos and tacos. The flavours and colours will blow your mind, especially that bulgogi ox cheek burrito with the kimchi fired rice and Asian slaw. Wow.
Spit and Roast
Spit and Roast do fried chicken that makes me weep with joy. Buttermilk brined (natch), its coating has a lovely balance of spice and the perfect crisp. And it's served with a sticky, sweet korean sauce and slaw in a brioche bun. I know this reads like a list of cliches, but each one is Grade A refinement. They sometimes do rotisserie in their van, and their chips are very good.
BBQ Lab
Pulled pork klaxon!!111!!! But this is what I'm talking about with the difference in quality at the same price. These guys know how to do 'technique'. They deploy sous-vide to cook meat to perfection over days and days, with the most melt-in-your-mouth results. But it doesn't stop at the delicately smoked meat - different pickle and topping combinations all the time. The 'lab' in the name gives the game away - they're always experimenting and the results are pretty consistently delicious. Blow torching cheese on top of pickled apple on top of the 53 hour pulled pork just about blew my mind.
Mother Flipper
I first tried these guys down at Brockley Market, and they're one of a number of excellent burger purveyors on the KERB roster (I love Bleecker Burger - soon to open a restaurant in Spitalfields, and Tongue and Cheek's are
offaly
good), but for me the simplicity of the MF candied bacon and cheese hits the spot every time. Their house sauce and pickles are classic, and the demi-brioche buns just perfect.
Yum Bun
I have a major weakness for steamed buns, but especially when they come filled with an aromatic pork belly and hoisin sauce. It's a rich treat, but given a real freshness by spring onions and cucumber. Yum Bun do these steamed buns with a range of fillings - I recently enjoyed their panko crumbed fish bun, lathered with gochujang spiked mayo. And at Kerb KX they do a good value lunch box, with two buns, two vegetable gyoza and a zingy Asian slaw for £7.