I'm lucky that many of my friends share my love for food. It means I'm never short of buddies to check out new restaurants with, or try out exciting recipes for, or even to go browsing the fancy kitchen equipment in John Lewis...what a buzz!
So when the idea was mooted in April that, as a friendship group, we would embark on our own Come Dine With Me voyage, I was very excited. There's nine people in our 'game', three pairs and one set of three. Such are our busy metro diaries that last night was only the second Saturday evening in all that time that we were all able to come dine with each other.
The first pair to host an evening was Ben and Hattie. They opted for a Palais de Versailles theme. When their handmade invite arrived in the post with butterfly confetti you could almost hear the squeaky sound of the bar being raised. The meal was delicious and served as follows:
- Greeted with pomegranate-laced bubbly
- An
amuse bouche
of celariac puree topped with caremalised fennel
- Asparagus with hollandaise
- Fricasse of chicken with mushrooms in red wine (both mains served with orange braised chicory)
- Saffron Tarte with wild musrooms (for the vegetarians)
- Prosecco and summer fruit terrines, served with orange zest and cocoa meringues
- Cheeseboard
So for the the next month or so I plotted my theme and menu. The theme was to be modern Scandinavian cuisine, inspired by the website
New Scandinavian Cooking
and tales of the world's third best restaurant,
Noma
in Copenhagen. It also helped that my décor is Danish or mid-century in style, and I love Scandinavian indie and pop music.
Ideas for how to top the already high standard included a midsummer's dip in Hampstead ponds (surely we could pretend we were on a beautiful pine forested island on the Stockholm Archipelago), or karaoke to our favourite Scandinavian hits. But I decided to focus on the food and drink and do myself proud with that and my excellent (nordic) taste in music and design!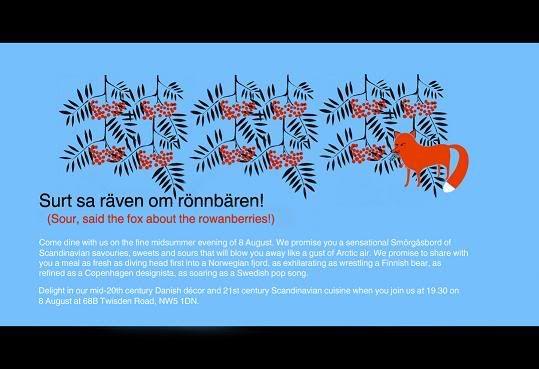 We started by toasting the evening with a shot of vodka which I had infused with dill and lemon zest for over a week. It tasted pure, perfume-like and elegant. You wouldn't believe it was 40% alcohol.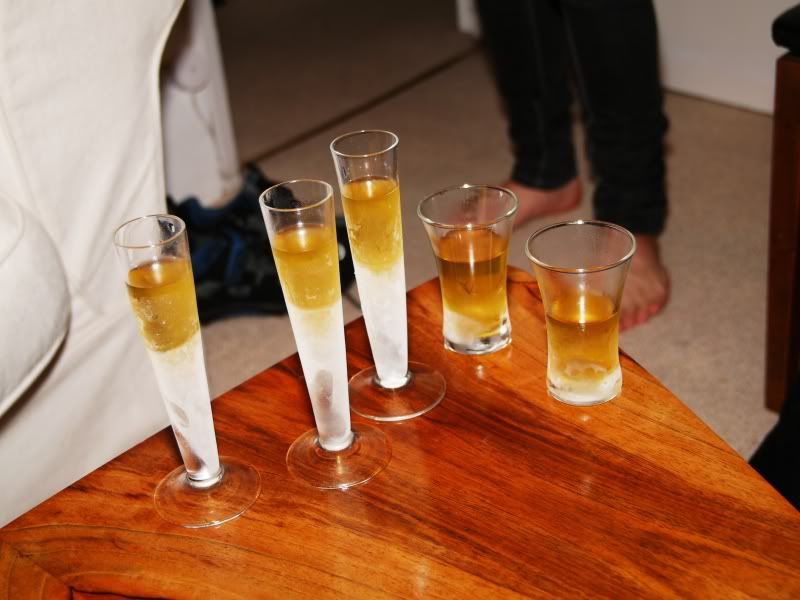 Next up was the star turn: the Smörgåsbord. I prepared miniature rye bread open sandwiches with salmon I cured myself (with vodka, dill and juniper berries - very easy actually) which was topped with a horseradish foam; a beetroot and apple salad with sour cream; prawns with ginger and orange zest; samphire on a caper and creme fraiche spread. We served it with a sparkling rosé from Provence. It looked stunning set out on our massive white plates and went down a treat.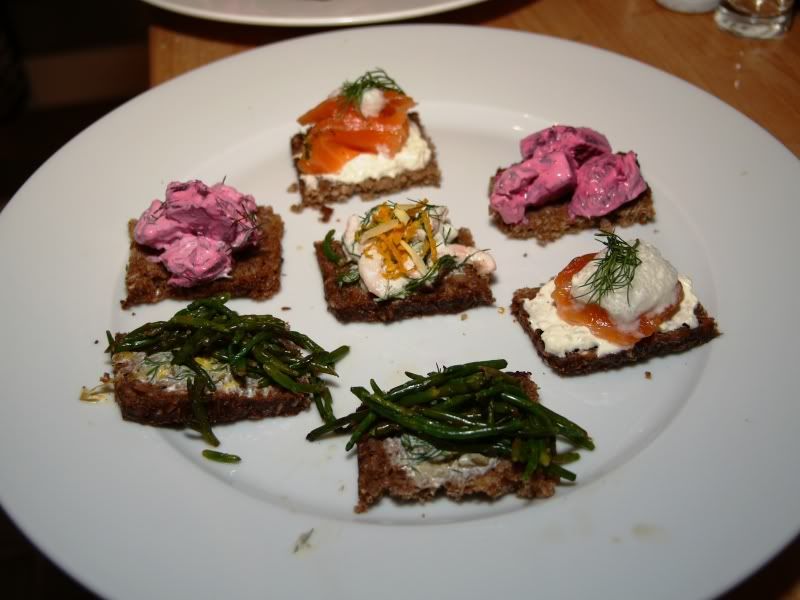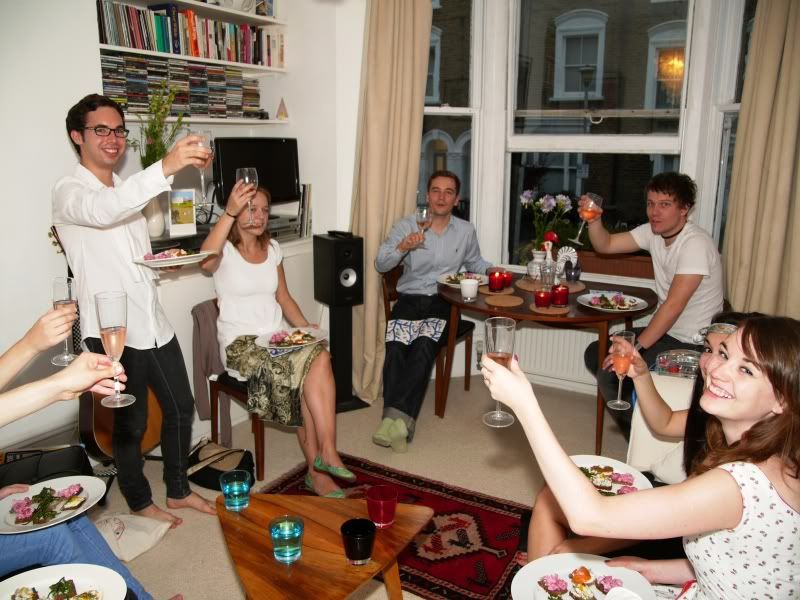 As an interlude or palate cleanser we served heart-shaped ice cubes with pickle, dill and juniper berries next. It was a little gimmicky, but it buys time for plating up the mains!
The meat eaters main was classic Swedish meatballs with a creamy gravy, served with new potatoes and dill, and a fruity salad of orange and shredded cabbage with a horseradish ice cube on top. The vegetarian main was a tower of portabella mushroom, cinammon and calvados infused apple and jarlsberg cheese with the same sides. The gravy was a particular personal triumph - my mum has tried to recreate the Ikea gravy so many times and this was the closest to the 'original' I've tasted!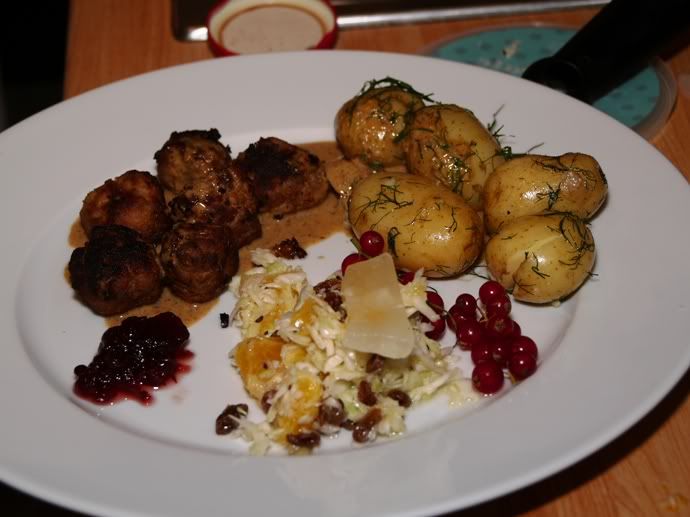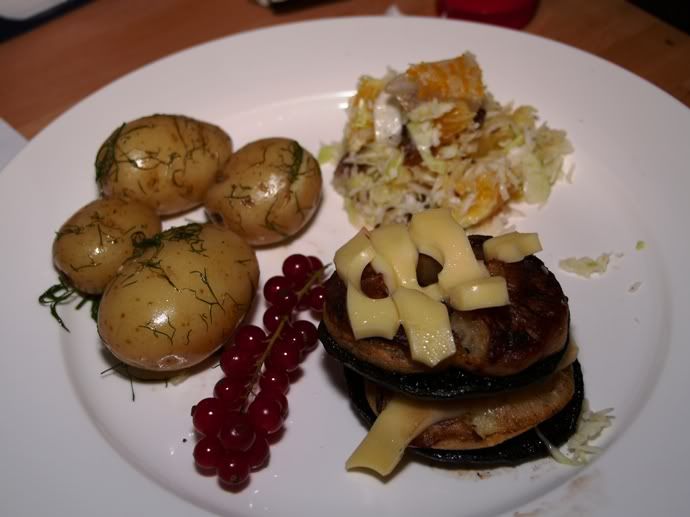 Time for another interlude: this time a rose, mint and redcurrant flavoured heart-shaped ice cube. Rosewater is such a clever one. A little splash of it can add a very exotic twist.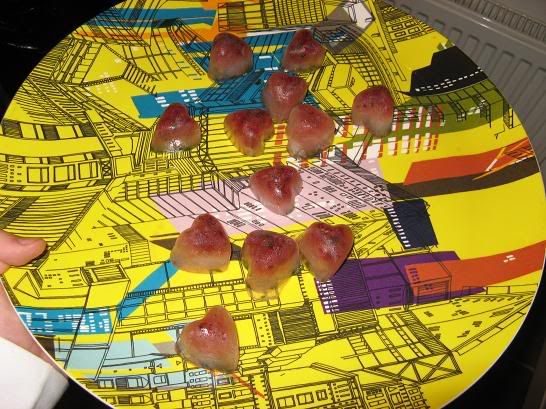 The principal pudding was apple, honey and rosemary ice cream which I made totally from scratch and without an ice cream maker! I quickly whipped up (literally) a honey and cinnamon foam to accompany and scattered some dried rose petals over it.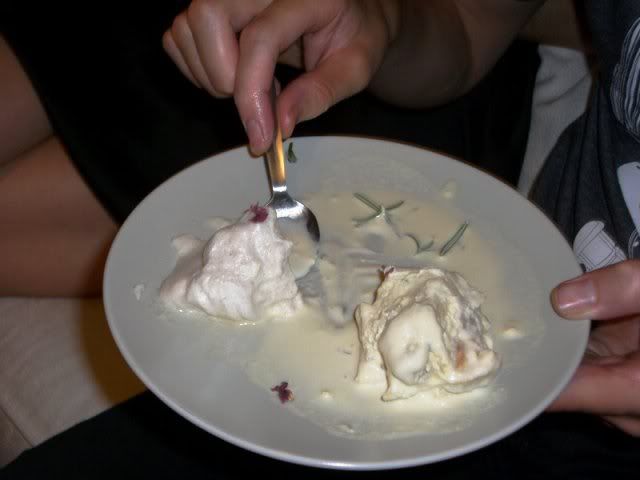 A friend at work who used to run a restaurant advised me to finish the meal with a chocolate hit, which, playing to win, I did. We melted a couple of bars of
Green & Black's
70% and mixed it with redcurrants. They didn't quite hold their structure after setting, so were a bit messy, but really hit the spot.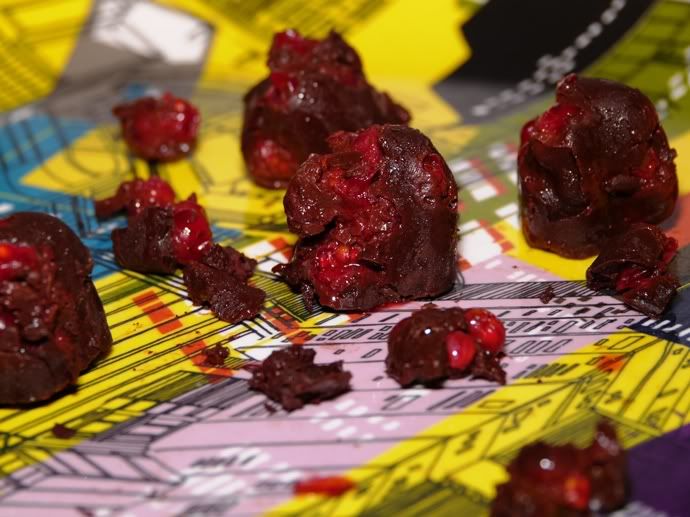 It was really nice to feed so many people and to experiment with Nordic cuisine like that. It was lots of hard work and I was relieved to serve the last course and know that our Come Dine With Me was over and I could look forward to the next two instalments over the coming months.
Incidentally, I've never seen the television programme itself. Am I missing out?!
Oh, and if you are interested you can view some of the recipes which inspired the meal here:
Dill Scnhapps
Cauliflower, shrimp and ginger salad
Swedish Meatballs
(Note: for the gravy, I cooked onions and added them in, as well as some paprika and lots of pepper, then puréed it all - much better!)
Cabbage and orange salad
Beetroot, Horseradish and Apple Salad
Gravlax
(cured salmon)
Apple ice cream with honey and rosemary