Everyone needs a good local curry house. I am fortunate enough to live within spitting distance of mine. I can almost even see into its kitchen from my bay window! My local curry house is called
Chameli's Tiffin Runner
(website coming soon!) and is on Chetwynd Road in Dartmouth Park, North London. On moving into the 'hood in February this year my new neighbours strongly urged me to try out Chameli's and its 'out of this world flavours'.
It took a few take away-nights before I could pluck up the courage to break my loyalty to
Monsoon
, also located within spitting distance in Dartmouth Park. Don't worry Monsoon, I still love you, but...
...but Chameli's Tiffin Runner is just exceptional. The flavours are amazing. I haven't tasted such well-spiced Indian cuisine in north London, ever. The chef uses fennel seeds in quite a few dishes, which imparts the dishes with a subtle liquorice taste. This was particularly exciting in their mango chutney. The menu features a lot of dishes that you don't see in most local Indian take-away menus, and you might not quite recognise dishes whose names you do know, but trust me, it's all good.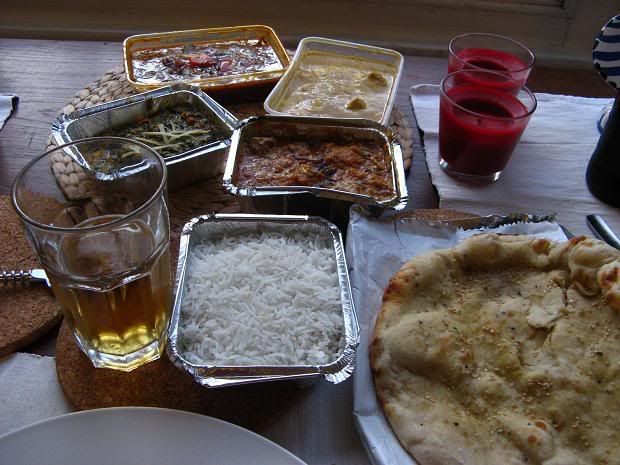 The korma sauce features exotic saffron and home made yoghurt, smoother and more luxurious than you're standard. Too often the meat in an Indian take-away comes in inexplicable chewy chunks, but at Tiffin Runner the meat is succulent and tastes well seasoned through effective marinading. The Tiffin Runner Special Chicken is particularly exquisite - the chicken comes in a rich, deeply spiced gravy with wine.
Chameli's is in the process of re-branding and will soon be called 'Tiffin Runner' (it was originally called Chameli) and the menu has expanded and is now printed on glossy paper rather than black and white A4. But there's definitely no drop in quality - I just hope that the good folk of north London will get to find out about this hidden gem and enjoy this amazing Indian food.
Until the end of August Tiffin Runner are doing a 'credit crunch special' of 2 poppadom, 2 mains, 2 sides, 1 rice and 1 nan for £16.50. It easily feeds three hungry hippos and it's a great way of trying some of the new dishes on the menu. We did it last week (see picture above) and it was divine.
To place an order or for more information, call Chameli's on 0800 917 4363.