I
posted earlier
about the
Come Dine With Me
'competition' that some of my friends and I were doing. In total there were four teams, hosting four meals. To recap:
The first couple's meal took place in June. Their theme was Salon de Versailles (think: Marie Antionette era France). This is their summer fruit and prosecco terrine.
My partner and I were up next, in early August. Our theme was modern Scandinavian. I think our star turn was our Smörgåsbord, pictured below.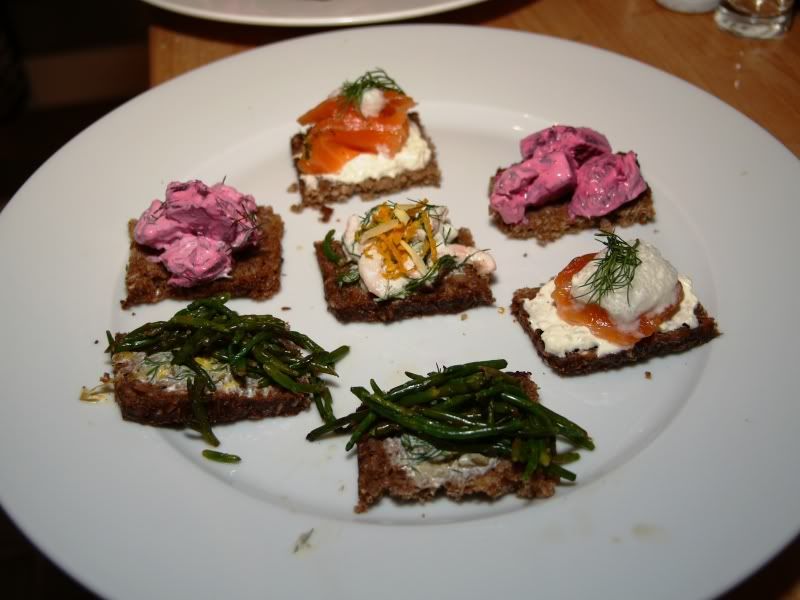 At the beginning of September, the theme was Glamorous Gourmet. Unfortunately, I was all fluey and had barely functional tastebuds. Luckily, the flavours was strong! We started with a cassis/cava cocktail that had real flowers in, and then went on wheat-free blinis topped with goats cheese, aubergine, and med veg. Next up was slow cooked cherry tomatoes topped with a creamy concoction. The meaty main was duck in a cassis sauce served with mashed potatoes.
This was followed by a lemon tarte with a pine nut crust - sumptuous. Next up was a 'modern cheese board', with plum, Camembert and drizzled with clove oil. We finished with homemade chocolate peanut truffles. Yum.
The final Come Dine With Me was a fortnight ago and the theme was Alice in Wonderland: Mad Hatter's Teaparty. The event took place at my friends' massive warehouse apartment in Dalston, which is in a maze like building. Playing cards lead the way through the corridors to their apartment where we were greeted with an Alice and Wonderland cocktail: an Amaretto sour. Next we took to the picnic tables for a mini meal of blackberry tart, custard tart, buttered toast, turkey sandwich and a toffee. This was chased up with a cocktail contained in a miniature bottle with a 'Drink me' tag attached.
Introduced as starter, we then had a tomato and vodka consommé with a heart shaped ice cube. And next was what we thought was the main course, a freshly made fish and chips and mushy peas wrapped in that day's tabloids. That's where things started getting a bit more zany - the portion was small so everyone asked for more and duly ate more - but the course was followed by another starter: a leek and feta terrine. And THEN we had the main course: pies and salad. By this stage everyone was totally stuffed.
But there was still plenty of eating to be done! A whole pool table covered in desserts - boozy chocolate mousses, cupcakes, jam tarts, chocolate brownies. And even a cheeseboard. Not that anyone had any capacity left!
The results of the competition were announced at the end - all parties' scores were very close, but my team won! Woohoo!