I make my friends and colleagues wince sometimes when they ask about my weekend food plans. Twice recently the answer has been "I'm going to a K-Mex pop up in Hoxton". Rightfully, it raises some eyebrows, especially when I explain it's Korean-Mexican fusion food and it's all the rage on the LA street food scene.
Bear with me, though, because there are good reasons for KMEX being an altogether Good Thing, not just some flash in the pan fad designed to get the twitter mob cramming into pop-ups.
So it all started in Los Angeles, which has huge Mexican and Korean populations, each with their own delicious street food offerings. Cooking in California has a long tradition of fusing the influences of its diverse populations together with its amazing capacity to grow the freshest and tastiest vegetables known to humankind. It was only natural that some people were going to clock that kimchi goes great with cheese, that coriander, avocado, lime and chilli united the cuisines, and both bad long traditions of slow cooking cheap cuts of meat with all manner of delicious fragrant spices.
When I was in California I ate some of
Dante Fried Chicken
's Creole-Asian-American-Latino fusions, had
korean fried chicken and waffles
, C
hinese food fused with modern European
, Asian style chilli cheese fries, Indian burritos...all incredible, exciting and not just an excuse to grab a headline on the latest natty fusion.
Over in London,
Kimchi Cult
were at the vanguard frying up kimchi with burgers at
Chatsworth Road Market
, making their own bulgogi fries and fried chicken at pop ups. Kimchi Cult has moved up to Glasgow now and, rumour has it, is looking to open a restaurant.
I am most excited about
Kimchinary
, run by Hanna Soderlund, who has been representing at Kerb and Street Feast with her *unbelievably* delicious Korean-style burritos and tacos. Think fillings like slow-cooked, K-spice infused ox cheek, Korean pulled pork, kale and miso aubergine, served with kimchi fried rice, cheese, sour cream, Asian slaw, and crispy, sharp Korean pickles.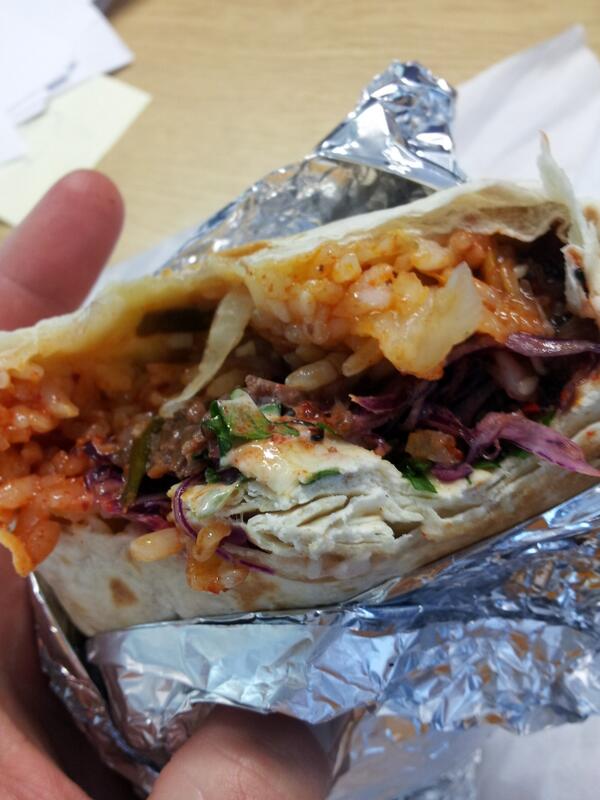 They are my absolute favourite street food lunch at the moment.
Hanna did a 7 week long residency at Catch on Kingsland Road recently, and I made it along to the final night to eat my way through the whole menu.
We shared dubboki - spicy, chewy, glutinous rice balls, and bulgogi nachos - think aromatic beef, with cheese, sour cream, and guacamole. Both utterly addictive.
The main draw, though, is Hanna's hand-pressed tacos, which work nicely in a sit-down setting - which are slightly harder for me to stuff in my bag as a cycle back to the office on my lunch than her burritos. There are all manner of exciting flavour combinations, such as cornflake fried chicken with sweet corn, Korean pulled pork with lightly pickled cabbage, ox cheek and tongue, and griddled squid and celariac.
The spread was incredible, with each taco a complex but perfectly balanced mix of flavours and textures. I brought a big pack of K-mex newbie friends with me, and all were blown away by every dish.
The pop up is now over, but you won't have to wait too long to try Kimchinary indoors.
It seems Kimchinary is getting together with What the Dickens to open a proper indoors spot under the railway arches on Morning Lane in Homerton,
which is happily less than 10 minutes walk from my flat. Follow their respective twitter streams for more news as it comes.
And it seems more Korean-Mexican fusion is brewing across London. I went last week to a popup dinner by
Kome at Dead Dolls Club
, and a variety of dishes got the K-Mex treatment. I particularly enjoyed seared tuna tostadas, where the gloriously fresh tuna meshed deliciously with tasty fermented vegetables, spicy sauces, fresh chilli and toasted sesame.
Also good were bulgogi fries - with aromatic beef, cheese, salsa, and lots of spring onion, which were hoovered up embarrassingly fast.
Even I have been trying my own hand at K-Mex, and now always have coriander, spring onions, sesame seeds, sriracha sauce and kimchi on hand to give a bit of a twist to certain dishes.
My message to you is this - don't be put off by the word 'fusion' or the fact that kimchi is fermented cabbage. Embrace this exciting food, and in particular, get down to Kimchinary, whether at
Kerb
,
Street Feast
, or whenever she opens her kitchen in Hackney with What the Dickens.