My adventures in Portugal at the beginning of July seem like a million miles away with autumn in London getting into full sway. But I'm not too far from Lisboa Delicatessen in Camden where I can buy great pasteis de nata and bring it all back. Looking through my food pictures from Portugal, it struck me how many different Portuguese puddings there are and how integral they are to the cuisine.
Pastries or
pasteis
are a big part of everyday life in Portugal. Every neighbourhood or town, however grand or scruffy, will have at least one decent
pastelaria
, where locals will stand at the long bar to have a quick
bica
(espresso) and a pastry of some sort. When we were in Portugal, we noticed that 3-5pm was a very popular time to engage in this ritual.
The most famous pasteis is the pasteis de nata, or 'Portuguese custard tarts' as some call them. I don't like that description - it puts them on the same level as those insipid chemical custard tarts pensioners buy from supermarkets. Anyway. I had at least 10 in my 14 days in Portugal, and none were better than from the world famous pastelaria in Belem. We had three between the two of us and I could have eaten a couple more!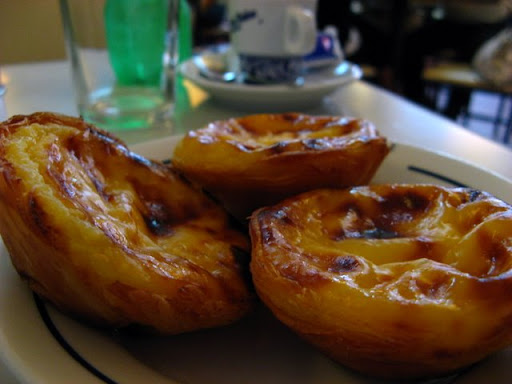 We visited the town of Sintra, which is full of elegant and dramatic palaces on top of mountains, and were sure to try their local delicacies. These are called queijadas de Sintra and are made with fresh portuguese cheese and sugar and egg and cinammon and have a slightly pungent savoury taste to them, in a good way.
Watching locals ordering and eating is an almost foolproof way of making sure you get a real local taste, so after eating our queijadas, we ordered one of these pastries which was filled with the same cheesy mix as the queijadas. Also delicious.
Pasteis de coco are another popular treat. It's
another
egg based pastry, this time with coconut and a cherry on top. Ah!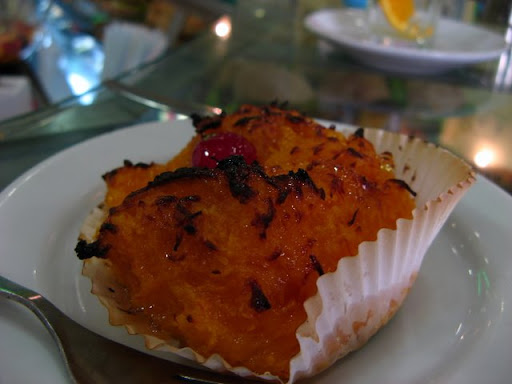 When we were in the Alentejan city of Evora we shared a hefty slice of chocolate cake made by the nuns in the convent. It was as rich and gooey and lovely as it looks.